Square D S33595 Secondary Injection Test Set
No stress rentals! We help you to choose the equipment that you need, we expedite shipment, and follow up.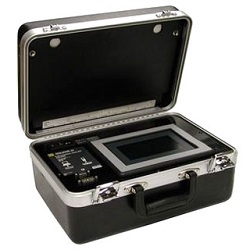 The Square D S33595 is a Secondary Injection Full Function Test Set that is capable of testing a variety of trip units. These are listed below.
ET 1.0M, ET 1.0I, ET 1.0
Micrologic 2.0, 3.0, 5.0, 2.0A, 3.0A, 5.0A, 7.0A
Micrologic 5.0P, 5.0H, 7.0P, 7.0H, 6.0A, 6.0P, 6.0H
STR22ME, STR22GE, STR22SE, STR23SE
STR23SP, STR43ME, STR53UP, STR53UE
General specifications
Nominal Operating Voltage
115 Vac to 230 Vac
Operating Voltage Range
120 to 144 Vac
207 to 253 Vac
Operating Frequency
50 Hz
60 Hz
24 Vdc Power
Nominal voltage: 24 Vdc
Tolerance: 22.8 to 25.2 Vdc
Max Output Current: 100 mA
Trip Time Measurement
Accuracy: ±5 mS
Resolution: 1 mS
Range: 0 to 3000 sec.
Fault Signal (Voltage Source)
Accuracy: ±3%
Nominal Frequency: 60 Hz
Amplitude Range: 0.031 to 21.5 at 60 Hz Vrms
Fault Signal (Current Source)
Accuracy: ±3%
Amplitude Range: 0.020 to 2.3 Amperes dc
Installation Category
(Overvoltage Category)
Category II
Max Power Rating
60 W
Operating Temperature
-20°C to 50°C
Storage Temperature
-20°C to 60°C
Shipping weight
30 lbs. / 13.64 kg