Siemens WLTS Test Set for WL Series Breakers
No stress rentals! We help you to choose the equipment that you need, we expedite shipment, and follow up.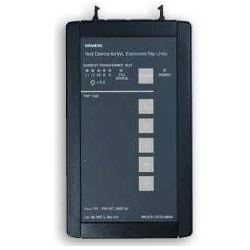 The Siemens WLTS Hand Held Breaker Tester is perfect for Siemens type WL circuit breakers. It will verify many trip unit functions and, in most cases, removes the need for primary injection testing.
Secondary Injection Test Set for WL Series Breakers
Provides a minimally invasive solution for breaker testing
Quickly determines the health of the entire trip system
Verifies compliance of the entire trip system
Acts as a temporary power supply to provide control power
General specifications
Verifiable parameters

Continuity of the air-core current sensors in each phase of the circuit breaker
Continuity of the energy transducers in each phase of the circuit breaker
Connections to external air-core neutral current sensorss in 4-wire residual applications and iron-core ground CTs in MDGF or other directly ground-sensed applications
Connection from the electronic trip unit and the tripping solenoid
Verify that of each of the main overcurrent protective functions (long-time, short-time, instantaneous, and optional ground-fault and neutral overcurrent) will trip the circuit breaker
Communications to an external master by simulating currents in each of the phases

Dimensions
(8L x 5W x 2H)in / (20.32 x 12.7 x 5.08)cm
Shipping weight
5 lbs. / 2.27 kg