Keysight N9952A FieldFox Microwave Analyzer
No stress rentals! We help you to choose the equipment that you need, we expedite shipment, and follow up.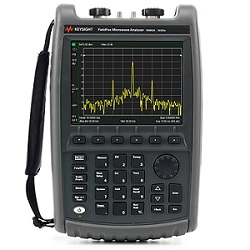 The 50 GHz Keysight N9952A handheld analyzer provides network, spectrum, and power measurements up through the Ka and Q bands. It is used to install and maintain cellular systems, do radar installation and maintenance (I&M), and much more.
Industry's first 50 GHz handheld μW analyzer
Standard model includes cable and antenna analyzer
Simultaneously measures all four S-parameters
Make accurate SA measurements (± 0.5 dB) without warm-up
Lightest all-in-one analyzer at only 7.1 lb.
Specifications:
Frequency

| Model numbers | Frequency range |
| --- | --- |
| N9913A | 30 kHz to 4 GHz |
| N9914A | 30 kHz to 6.5 GHz |
| N9915A, N9925A | 30 kHz to 9 GHz |
| N9916A, N9926A | 30 kHz to 14 GHz |
| N9917A, N9927A | 30 kHz to 18 GHz |
| N9918A, N9928A | 30 kHz to 26.5 GHz |
| N9950A | 300 kHz to 32 GHz |
| N9951A | 300 kHz to 44 GHz |
| N9952A | 300 kHz to 50 GHz |
Specifications:
Frequency reference, -10 to 55°C
Accuracy
± 0.7 ppm (spec) + aging
± 0.4 ppm (typical) + aging
Accuracy, when locked to GPS
± 0.010 ppm (spec)
Accuracy, when GPS antenna is disconnected
± 0.2 ppm (nominal)
Aging rate
± 1 ppm/yr for 20 years (spec), will not exceed ± 3.5 ppm
Specifications:
Frequency resolution
Frequency ≤ 5 GHz
1 Hz
Frequency ≤ 10 GHz
1.34 Hz
Frequency ≤ 20 GHz
2.68 Hz
Frequency ≤ 40 GHz
5.36 Hz
Frequency ≤ 50 GHz
8.04 Hz
For detailed specifications please see: Keysight N9952A Data Sheet