GE GTUTK20 Secondary Injection Test Kit
No stress rentals! We help you to choose the equipment that you need, we expedite shipment, and follow up.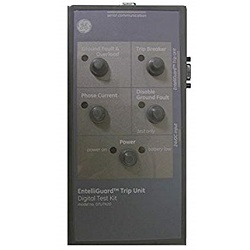 The General Electric GTUTK20 Digital Trip Unit Test Kit is a lightweight Secondary Injection Test Kit designed for field-testing EntelliGuard® TU trip units.
Input: 100-240VAC 50/60 Hz or two 9-volt batteries
Powers trip unit with less than 15% load on breaker
Powers trip unit when Trip Unit Battery needs replacing
Ground Fault testing with Ground Fault Trip Indication
Verification of metering (phase simulation)
General specifications
Included with GTUTK20
Test kit box
24V DC power supply
Serial Communication Test Kit cable for connection to PC
Trip Unit cable to connect GTUTK20 to EntelliGuard® Trip Unit
Set-up software for set-up of trip unit and download waveforms
Test Modes
Metering Test
Breaker Trip Test
Ground Fault Test
Overload (Long Time) Test
RELT Test
Short Time Test
Shipping weight
5 lbs.