Doble TDR9100 Circuit Breaker Test System
No stress rentals! We help you to choose the equipment that you need, we expedite shipment, and follow up.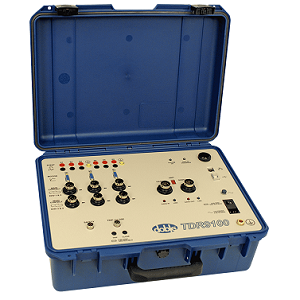 The Doble TDR9100 is a state-of-the-art circuit breaker test system that efficiently and accurately tests all types of circuit breakers. It does main contact timing, motion, resistance, and capacitance measurements with the flexibility to double or triple your usable channels.
Sampling rates up to 20 kHz and expanded analog measurement ranges
Complete test reports in Excel™, Word™, and PDF formats
User-friendly T-Doble software features an intuitive control panel
Pre-insertion resistor and capacitance measurement capability
Detects main contact and resistor contact timing errors
Specifications - Main/Resistor Contact timing
OCB Configuration
3 Contacts
EHV Configuration
12 Contacts - up to 36 with ganged units
Resolution
50 μs / at max sample rate
Maximum sample rate
20 kHz
Resistor detection range
10 Ω to 10 kΩ
Resistor (Insertion) Value Range
10 Ω to 7000 &Omega
Measurement Accuracy
Resistor value: ± 10%
Capacitor value: ± 10%
Capacitance Detection Range
75 pF to 10,000 pF
Voltage isolation to chassis
1.0 kV
Specifications - Trip/Close initiation Control

| | |
| --- | --- |
| Maximum input current | ± 100 A |
| Maximum input voltage | ± 300 V |
| Voltage isolation to chassis | 1.0 kV |
Specifications - Motion Channels

| | |
| --- | --- |
| Number of channels | 3 - up to 9 with ganged units |
| Connector | 15-Pin D |
| Voltage isolation to chassis | 1.0 kV |
General Specifications
Recordings
25 seconds (all channels at max resolution). Up to 87 minutes (reduced resolution)
Communication
USB or Ethernet
Safety
Safety Ground
Remote Safety Switch
Audible Indication (test in progress)
Dimensions
24.0 X 15.5 X 8.5 in
60.9 X 39.4 X 21.6 cm
Weight
24 lbs / 11 kg
Power Supply
100 to 240 V, 50/60 Hz
Temperature
0° to 50° C operating
-25° to 70° C storage
Humidity
Up to 95% relative humidity non-condensing