High Voltage model VLF-28CM AC Hipot Tester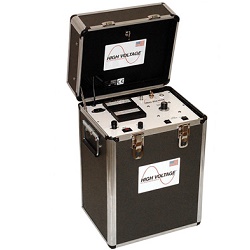 28kV AC Hipot Tester
Contained in a single case 15" w x 11.5" d x 22" h, 75 lbs.
Input - (CM suffix): 120V, 60Hz, 5A peak, 2.5A average
Input - (F suffix): 230V, 50/60Hz, 2.5A peak, 1.5A average
Output is 0 to 28kVac, peak, frequency 0.1 Hz, sinusoidal
Duty continuous and rated load is 0.4 mF, or approx. 4000 ft. of 15kV class cable
Voltmeter: -30kVac to +30 kVac peak
Charging Current meter: 0 to 50 mA peak
Shielded output cable: 20 feet (6m)
Shipping weight is 100 lbs.