Keysight N5224A PNA Microwave Network Analyzer
No stress rentals! We help you to choose the equipment that you need, we expedite shipment, and follow up.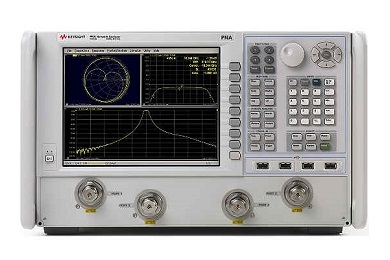 Applications include material measurements, signal integrity measurements, and millimeter-wave measurements. Transmission line and free space, arch reflectivity, resonant cavity, and coaxial probe are available as options.
Outstanding measurement integrity leads to better designs
Get the best accuracy with S-parameter measurements
Customizable to one's preferred level of performance
Highest performing microwave network analyzer in the industry
Max frequency 43.5 GHz, dynamic range 127 dB, output 13 dBm
Specifications
System Dynamic Range at Test Port(dB)
Frequency range
Dynamic range
Option 200, 400
Dynamic range
Option 201, 401
Dynamic range
Option 217, 219, 417, 419
10 MHz to 50 MHz
82 db
82 dB
80 dB
50 MHz to 100 MHz
98 dB
98 dB
96 dB
100 MHz to 250 MHz
108 dB
108 dB
106 dB
250 MHz to 500 MHz
115 dB
115 dB
113 dB
500 MHz to 1 GHz
119 dB
118 dB
117 dB
1 GHz to 2 GHz
127 dB
127 dB
125 dB
2 GHz to 3.2 GHz
127 dB
127 dB
125 dB
3.2 GHz to 10 GHz
127 dB
127 dB
125 dB
10 GHz to 13.5 GHz
127 dB
127 dB
125 dB
13.5 GHz to 16 GHz
127 dB
127 dB
125 dB
16 GHz to 20 GHz
127 dB
127 dB
124 dB
20 GHz to 24 GHz
127 dB
127 dB
124 dB
24 GHz to 26.5 GHz
127 dB
127 dB
124 dB
26.5 GHz to 30 GHz
123 dB
122 dB
119 dB
30 GHz to 32 GHz
123 dB
121 dB
117 dB
32 GHz to 35 GHz
123 dB
122 dB
119 dB
35 GHz to 43.5 GHz
118 dB
117 dB
112 dB
For detailed specifications please see: Keysight N5224A Data Sheet