ETI PI-1600 Portable Circuit Breaker Test Set
No stress rentals! We help you to choose the equipment that you need, we expedite shipment, and follow up.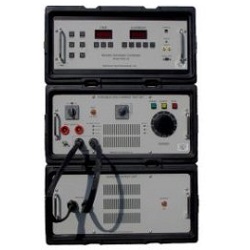 The ETI PI-1600 is a Primary Injection Test Set that will test low-voltage, molded-case and metal-clad, direct acting AC circuit breakers from various manufacturers. The PI-1600 tests breakers rated up to 1600 Amperes.
Portable: each enclosure weighs less than 125 pounds
Rugged aluminum and plastic enclosure with removable lids
Selectable output connections for all types impedance loads
Rated 9.8kVA continuous for testing breakers rated up to 1600A
Variable pulse times for convenient preset output current
Specifications: PI-1600 System description
Input
208-240 VAC ± 10% (Switch Selectable), 1φ
Modular components (3 pieces)
1) MAC-21 Monitor Ammeter Controller
2) PI-800 Circuit Breaker Test Set. See: Specifications for PI-800
3) PI-AUX (boosts power to 9.8 kVA)
Note: Units rented from ISR include all of these components
Accessories included
Input power plugs (1 pair)
Series/Parallel Output buswork (1 set)
Contact leads (1 pair)
Technical manual (1 copy)
½ inch Vertical Horizontal Universal Stab Set
Specifications: PI-1600 Output Current & Overload Capabilities
4.2V
(S/P)
8.4V
(Series)
Overload
Duty
Max ON Time
Min OFF Time
Max Input Current
(240V)
1600 A
800 A
1 X
100%
Continuous
N/A
38 A
2250 A
1125 A
1.4 X
50%
15 min
15 min
53 A
3200 A
1600 A
2 X
25%
5 min
15 min
75 A
4800 A
2400 A
3 X
10%
2.5 min
20 min
112 A
6400 A
3200 A
4 X
6%
75 sec
20 min
150 A
8000 A
4000 A
5 X
4%
4 sec
2 min
187 A
11200 A
5600 A
7 X
2%
2 sec
2 min
262 A
16000 A
8000 A
10 X
1%
0.6 sec
1 min
375 A
Specifications: MAC-21 Monitor Ammeter Controller
Current ranges
0-1000 A
5,000 A
25,000 A
100,000 A
Current accuracy
Continuous: ± 5% of reading + 0.5% of full scale
Pulse: ± 1% of reading + 1% of full scale
Timer ranges
0-9999.999 sec
0-9999.9 Cycles
Timer accuracy
± 0.005% of reading ± 1 count
Physical specifications

| | |
| --- | --- |
| Portability | The units are housed in rugged interlocking suitcase-size enclosures. Each piece weighs no more than 125 pounds, allowing one person hand truck mobility. |
| Dimensions and weight (MAC-21) | (8.5H x 19.5W x 13 D) in. (216 x 495 x 330) mm, 25 lbs(11.4 kg) |
| Dimensions and weight (PI-800) | (11.5H x 21.5W x 22.5 D) in. (292 x 546 x 572) mm, 125 lbs (57 kg) |
| Dimensions and weight (PI-AUX) | (11.5H x 21.5W x 22.5 D) in. (292 x 546 x 572) mm, 115 lbs (52 kg) |
| Total weight of System | 255 lbs |
| Shipping weight | 365 lbs |